Batteries still not included
Submitted by

Tim Sallume

on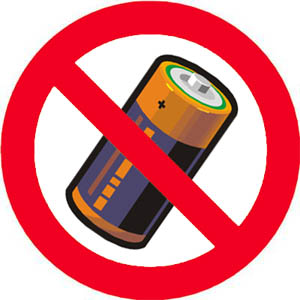 One of the problems with getting all our electrical energy from renewables, is that they are not a constant supply of energy.  Geothermal is the rare exception, it produces heat energy constantly.  And even with a steady supply, electrical demand isn't constant, spiking in the daylight, especially in the summer with air-conditioning and going to almost non-existent at the late night hours.
This isn't a problem currently, because as long as there is an electric grid, you can sell back the excess power (and thus reduce the amount of nonrenewable energy) and draw on nonrenewables when it becomes necessary.  This usually works great with solar, since demand is usually the highest when the sun is shining the brightest.  But what if there was no nonrenewables to fall back on?
One solution is to carefully balance all renewables so that it is always possible to fulfill demand.  As much as I like this idea, it seems unlikely that all possible demands can be readily supplied by all sources of renewables.  And even given that it was possible, you would still have large amounts of surplus energy just waiting to be used, in case demand suddenly increased or supply suddenly dropped.  So you would still need large size energy storage to store energy for a rainy day (literally in the case of solar).
Another solution is to have electric cars and all of those batteries would be in service to store excess power and release it back to the grid when needed.  That might work, but it requires to have a large number of electric cars and some sort of smart grid to figure out whether to charge the car or discharge the car to assist the grid.  And who wants their gas tank lowered (even if you were credited the cost of the energy transferred) just to power someone else's air conditioning?  Now maybe there would be energy stations that would have excess batteries, and instead of charging a car battery, they swapped batteries.  So they would keep a bank of batteries.  A large size battery would be useful for these energy stations, buying cheap electricity and using it to recharge car batteries to sell, and possible selling electricity back to the grid when demand was high (thus making a profit). [1]
What type of battery technologies are there currently being used?  Zinc-Air and high-density sodium-sulfur batteries. The sodium-sulfur batteries are already being used in Japan.  There, two units each produce 48 megawatt-hours of energy storage for daily load leveling applications, which reduce the amount of generation needed during hours of peak usage.  They have an energy density of three times that of the common lead-acid battery and is more efficient and durable.  The huge drawback with them, is they required the internal parts to be maintained at 600F, so they are limited to huge storage rather than say battery backup for a house.  Zinc-Air are smaller, but more expensive, and thus better for a replacement for backup generators. [2][3]
I don't know why battery technology doesn't get the same sexiness as other renewables.  It is not a energy generator, but it prevents the need for peak-supply power plants and overall more efficient used of the energy generated.  So, I hope in the future, batteries are included.
[1] Shai Agassi's bold plan for electric cars - http://www.ted.com/talks/lang/en/shai_agassi_on_electric_cars.html
[2] Zinc-Air batteries by Eos - http://www.eosenergystorage.com/technology
[3] American Electric Power's sodium-sulfur batteries -  http://www.aep.com/newsroom/newsreleases/?id=790