06-20-2011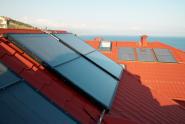 11-20-2014
SolarCity has agreed to a deal with retailer Walmart that will see the clean energy provider install PV projects at stores across 36 states over the next four years.
08-09-2015
It is the development conundrum of our era. Extremely poor people cannot lift themselves out of poverty without access to reliable energy.
08-17-2016
Electric vehicles can meet drivers' needs enough to replace nearly 90 percent of vehicles now on the road. Could existing electric vehicles (EVs), despite their limited driving range, bring about a meaningful reduction in the greenhouse-gas emissions that are causing global climate change?
08-10-2016
What do self-driving cars, the Mars rover and remote solar site assessment have in common?
FullName
Keri Helmer, Project Assistant, Renewables
Organization
Center for Sustainable Energy
City Council approves blueprint for significantly reducing greenhouse-gas emissions by 2035
Raising the bar for municipalities across the country, San Diego on Tuesday adopted one of the nation's most ambitious plans to cut carbon emissions.  And in one aspect, the city's document goes further than the historic climate change deal forged Sunday by world leaders gathered in Paris: It creates legally binding mandates for reducing levels of greenhouse gases.  "Today, San Diego took a landmark step toward securing a greener and more prosperous
02-01-2016
Kyocera Corp. has come up with a smart way to build and deploy solar power plants without gobbling up precious agricultural land in space-challenged Japan: build the plants on freshwater dams and lakes.
Subscribe to Clean Energy