Move over, Tesla: electric vehicles are about to be super-sized
05-05-2015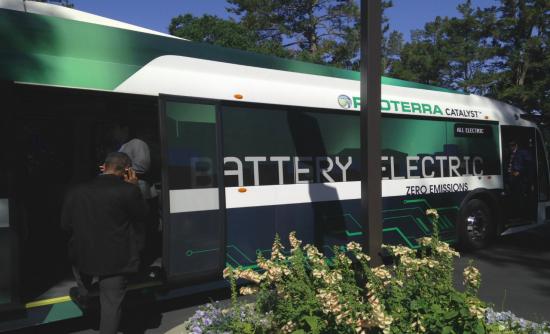 Gone are the days of commercially-viable electric vehicles being limited to the realm of flashy sports roadsters and passenger cars. The work-a-day worlds of public transit buses and municipal garbage trucks are offering their own glimpses into a future of zero emissions vehicles. 
While electric motors and battery storage piloted by the likes of Tesla Motors have drawn plenty of attention, electric vehicle (EV) technology is also quietly revamping transit options and city service delivery. That's thanks largely to a combination of recent battery advances and falling prices, which are poised to change the very air of urban transportation.
Just last week, electric bus manufacturer Proterra, whose CEO happens to be a former Tesla executive, showed off its new zero-emission Catalyst transit bus — a 40-foot long EV that can shuttle 77 people at a time around a city.
The bus, which was showcased at the offices of blue chip Silicon Valley investor Kleiner Perkins Caufield & Byers, can be partially re-charged during 8 minute stops along passenger routes, theoretically allowing the bus to continue service all day long — a prospect that has backers trumpeting potential to cut fuel costs and maximize efficiency.
 "It is dramatically cheaper on a total cost of ownership basis for transit operators," said Michael Linse, the Kleiner Perkins partner who led the firm's nearly $30 million investment in Proterra. "I'm highly confident that within the next five to 10 years, the majority of buses sold in the United States will be electric."
But new business ventures in the space are by no means limited to zero-emission bus fleets.
On Monday, electric powertrain manufacturer Wrightspeed Inc. also unveiled a range-extended electric powertrain. The company, whose founder also co-founded Tesla, says the new offering will allow large, heavy vehicles like garbage trucks and mid-to-large-sized Class 3 through 8 trucks to run all day on electricity at considerably lower cost than diesel engine trucks.
The activity in the realm of electrified buses and trucks also comes as a range of companies, investors and third-party groups jockey for position in a rapidly-evolving market for new types of mobility offerings.
Software-enabled carsharing and ridesharing upstarts are already changing the dynamics of vehicle ownership, leading traditional automakers to dabble in everything from their own bus systems to autonomous vehicles (some electric, some not). 
Lower prices, higher demand
When it comes to what's fueling demand for more than a year's worth of backlog in orders for the Proterra bus — as well as electric buses built by its main competitor, BYD Motors — costs are king.
Thanks to tumbling battery prices and the operational savings associated with skipping diesel fuel, electric buses could be a better deal for transit agencies in the long-term than conventional diesel or compressed natural gas buses. The price of the bus itself up front is "on par with the cost of diesel hybrid," plus the cost of the charging infrastructure, said Matt Horton, vice president of sales and marketing. Prices range from $659,000 for a Catalyst that travels 50 miles per charge to $829,000 for a Catalyst Extended Range that travels 180 miles per charge. One in between is a model with a fast charge for $799,000.
These prices are higher than standard diesel combusion buses, but Horton was quick to say that the cost added by the charger was significantly below what an operator would spend on fuel over the life of a typical transit bus. Proterra estimates $365,000 less in avoided fuel costs and another $135,00 in avoided maintenance costs over the 12 years average lifetime of a transit bus.  
Proterra has already expanded its customer base beyond tree-hugging states like California. Some of the startup's biggest customers are in Louisville, Kentucky, Tallahassee, Florida and San Antonio, Texas. The current waitlist is at more than a year long.
BYD Motors, meanwhile, just sold 10 rechargeable electric buses to the Long Beach Transit Authority and has options to sell dozens more to other Los Angeles-area transit agencies. BYD Motors is the Los Angeles based subsidiary of China's BYD  Co. 
Those new orders are also building upon an existing market for alt-fuel vehicles.
According to CalSTART, a clean transportation advocacy group, about half of transit buses being sold today are powered by alternative fuels or using advance drive train.  It is primarily operating costs that are drawing municipal and transit district buyers, according to CalSTART President John Boesel.
"That is appealing to transit authorities because the operating costs are the hardest to cover," Boesel said. "They can get federal money for capital purchases, but operating costs they own." 
However, day-to-day operations also entail one major perennial thorn in the side of EV manufacturers: charging requirements.
One breakthrough that Proterra engineered is short-range recharging through wireless units that can hang from street polls or protude from bus shelters and recharge the bus battery while passengers step on. That short-range recharging takes 5 to 10 minutes and lasts for 30 miles, allowing buses to be in continuous operations. Proterra also sells a 24-volt battery charger that takes about two hours but lasts for 180 miles.
When one Sacramento County transit official attending the Proterra event last week in Silicon Valley heard that recharging could happen wirelessly — not requiring another staffer for the job — he simply remarked, "Wow." 
The Tesla connection
It's no small coincidence that the chief executives of both Proterra and Wrightspeed are senior alumni of electric vehicle pioneer Tesla Motors Inc.  
While Tesla focuses on passenger cars, Wrightspeed CEO Ian Wright — who co-founded Tesla — saw what he said could be an even bigger opportunity in heavy vehicles.  Proterra CEO Ryan Popple, who was senior finance director at Tesla when the company went public, saw an opportunity in next generation public transit.
One catalyst for those opportunities is the very nature of diesel combustion. Diesel engines dominate in the heavy truck and bus markets, but perform terribly when evaluating environmental impact and efficiency, Wright said in an interview with GreenBiz.
"I realized there were other applications for electric drives," Wright explained, aside from consumer cars. "The biggest benefit for electric drives is saving fuel."
And heavy trucks use huge amounts of fuel.  Garbage trucks, for instance, gobble up about 14,000 gallons of fuel a year, dwarfing the typical 600 gallons a year used in a family car. 
The catch: a rechargeable battery alone would not be the answer for big heavy trucks, Wright said, since, "it would take up half the truck."  Adding a turbine generator or range extended electric powertrain can help make up the difference.
"This will enable not just garbage trucks, but a lot of vehicles to radically reduce their fuel consumption and their emissions and also the cost of operating," Wright said.  "The savings in fuel for a large truck is very big."
He cites cost savings of roughly $35,000 a year for fuel and $20,000 a year on maintenance that could be avoided with an electric motor. Payback for investment in the more expensive range extended electric powertrain — which costs about $150,000 more than a diesel engine up front — would take about three years. 
Similarly, electric transit buses could offer huge savings in fuel and maintenance —  Horton's estimate of $365,000 in fuel savings over the 12-year life expectancy of the bus, and $135,000 in maintenance.
Breakthrough in pollution out of the urban core
Underlying cost concerns, are savings of a different kind: decreased pollution.
Diesel engines are among the highest polluters because, as compression motors, they burn hot; combustion occurs before any fuel evaporates.  Particulate matter — the brown soot rising from a truck or bus — comtains numerous harmful gases and 40-cancer causing substances, according to the Public Health Institute.
Asthma is the most well known health hazard resulting from diesel smog, and asthma rates among city dwellers are higher than for people who live outside of cities.  Moreover, it is often low-income children who are the hardest hit, since they are starting life in the environs of diesel soot at a time when their lungs are still developing."We are pushing cities to use EV buses," said Sierra Club's Kate Looby, senior advancement director for the organization's western operations. Among other things, the environmental injustice of diesel's impact on the inner city is terrible.
"It is the low-income residents in cities who suffer the most from particulate matter of diesel buses," she said.
During a trip aboard a Proterra bus last week in the Menlo Park neighborhood surrounding Kleiner Perkins, Looby elaborated on Sierra Club's push for electric vehicles.  Not only are the zero emissions a boost for the health of city dwellers, including school children and senior citizens, two vulnerable populations who happen to depend on transit buses, but widespread use of electric vehicles could move the needle on lowering carbon emissions.
Unlike compressed natural gas buses that still use a fossil fuel extracted from the earth — one that is often retrieved from fracking — electric vehicles are being put to use as utilities evolve towards greater use of renewable energies.  Even electric vehicles used in Kentucky and other states whose electric utilities use coal plants produce less carbon and other air pollutions per passenger mile traveled than any other form of motorized transportation.