Date:
Wed, 12/14/2011 - 7:00am
to
Thu, 12/15/2011 - 7:00pm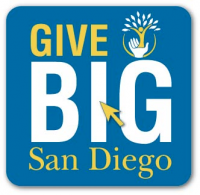 On December 14, 2011, GENI will be taking part of a fundraising event alongside The San Diego Foundation called GiveBIG. We would like to ask for your support by spreading the word about this event to your family, friends and anyone you think would like to support GENI and the WRSC. 
More information will be posted on our website, Facebook and Twitter as the date approaches. Below are additional details regarding the event. 
Thank you in advance for your support in spreading the word! 
The WHAT, WHEN, WHERE, and WHY of giveBIG SanDiego 2011
WHAT is giveBIG?
giveBIG is an online networking and giving event that provides GENI the opportunity to gain exposure to and start relationships with new donors, and for people in the San Diego region to come together to raise as much money as possible for local nonprofits within a 36-hour period.
WHEN is giveBIG happening?
The online event will take place during a 36 hour period from 7 a.m.,Wednesday, December 14 th to 7 p.m., Thursday, December 15th. 
WHERE is giveBIG taking place?
giveBIG is an online event where most of the activity will take place via computer.  Within the timeframe of the event, credit card donations will be able to be made at your convenience via the giveBIG donation website.  
WHY is giveBIG a good opportunity for our community?
Our goal is to make philanthropy accessible, fun and easy for the entire San Diego community. giveBIG is a time-limited donation period designed to expand and increase giving to local nonprofits that provide vital services that help to sustain our community. Other metropolitan areas that have held similar events have risen well over $500,000 in a single day; giveBIG is our chance to do this for the San Diego region!
HOW does it work?
Any individual or business may donate.
All donations must be made via debit or credit card through the giveBIG website. No gifts from checks, cash or stock will be accepted for this giving event.
All donations are tax deductible and irrevocable (donations will not be refunded) and will be for the unrestricted use of your chosen charity. Please note that BetterGiving is a program of The San Diego Foundation. Therefore, your credit card statement will read: (XXX charity) via BetterGivingSD.org/TSDF.