Prototype Event - June 2009
In early June, we brought together 46 leaders in GIS mapping and comprehensive thinking to test out the concept and process of collaborative decision-making on global issues in an immersive, visual environment.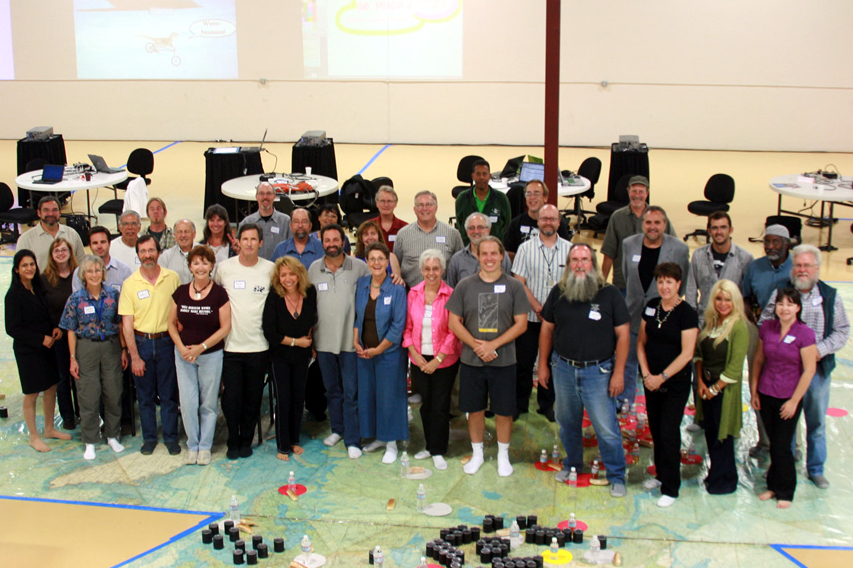 For our prototype design event, we used projectors and laminated maps to imitate the digitized, high tech interior of the WRSC.  In three simulations over two days, we examined issues of population and demographics, energy and climate, water and sanitation, and oceans and fisheries on the global, national and regional levels, pushing our experts to find and present the best visual data and analysis on these topics.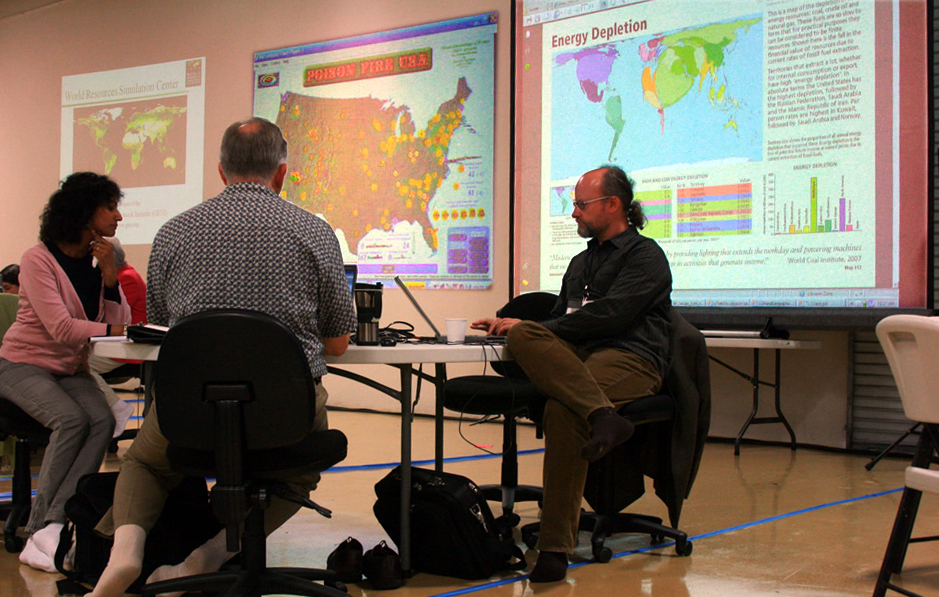 What we discovered was that an abundance of information about both the state of our planet and the solutions for solving global issues already exists and that it is accessible with a laptop and an Internet connection.  The further good news is that there are numerous smart people and organizations doing critical work in planning a sustainable future.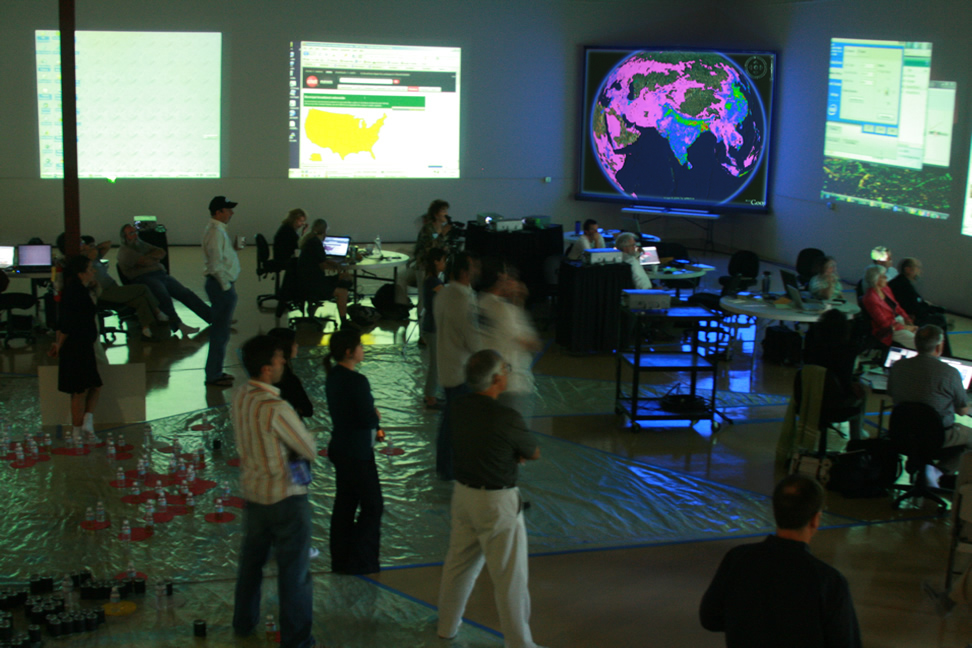 However, we quickly determined that in just the few topics we examined, although all are interconnected in cause and consequence, the data exists within silos of narrow specialties.  We learned that much research and data is needed to both visualize the trends and issues of where we are and to project the best solutions going forward.  Seeing first hand that we are facing a multitude of impending crises that are not adequately being addressed underscored the urgent need for the WRSC.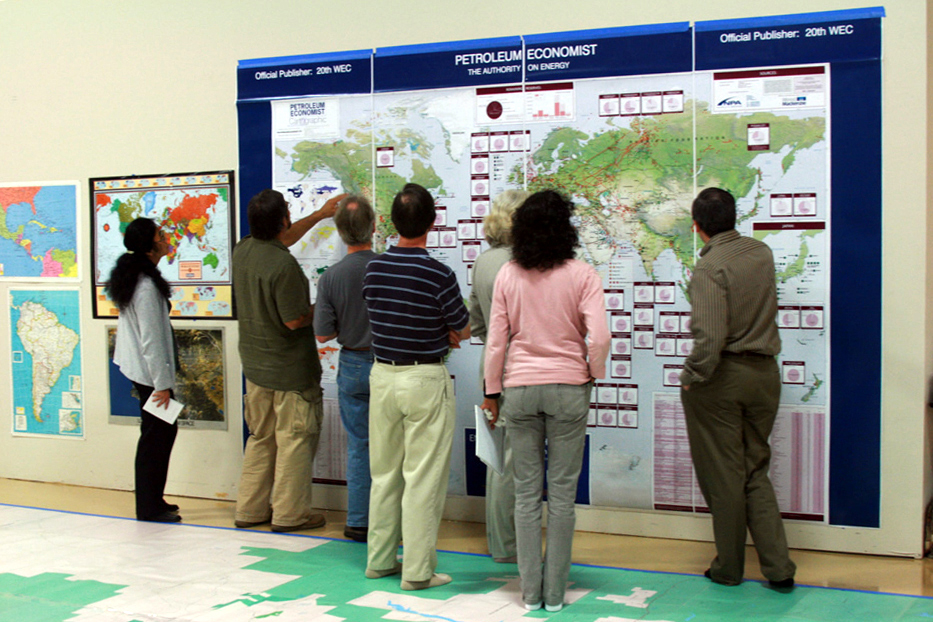 Something else happened in the space of these two days.
Working together, people who were strangers at breakfast began to collaborate, discuss and cooperate as they searched for solutions.  "Ah-ha" moments occurred, as attendees listened to experts in other fields and experienced the information visually.  Surrounded by visual data on large screens served at first to overwhelm the senses and then to awe, as the magnitude of the crises we face now became proportional to its image onscreen.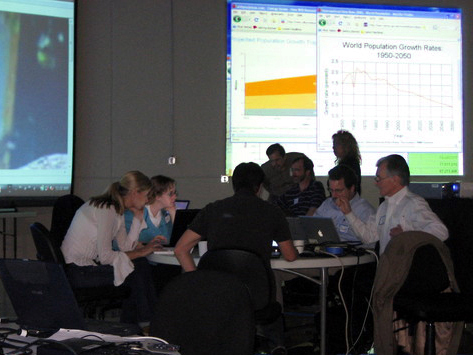 Friendships were forged across fields of specialty.  Entrepreneurs interacted with geographers and each brought new insights and ideas into the solution process.  Many of the participants at the design event are now partners in the process of bringing the WRSC into reality.
Most importantly, in bringing us all together under one roof, we experienced the importance of face-to-face interaction in the processes of collaboration and cooperation.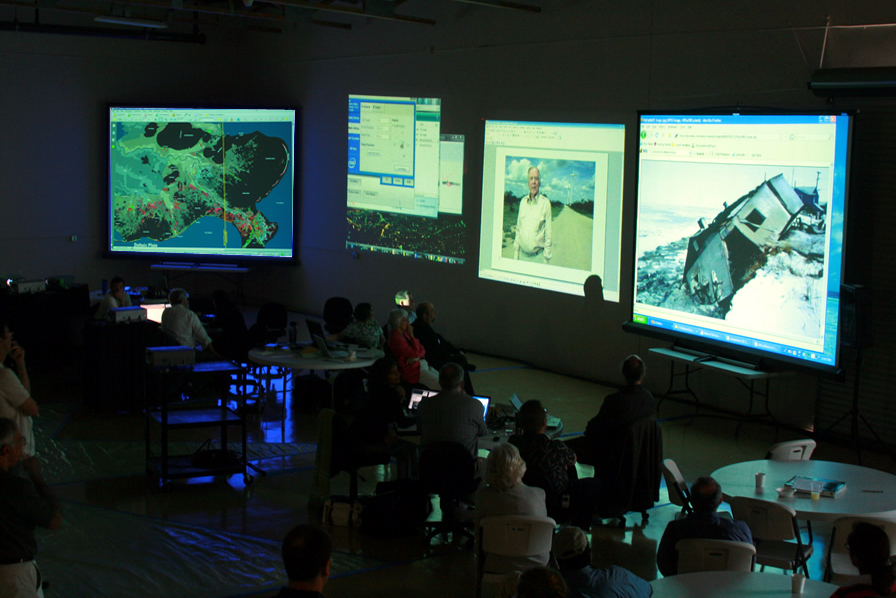 In just two days, we were not able to solve, nor did we attempt to solve any of the issues we tackled.
We were able to prove that the concept of a World Resources Simulation Center dedicated to solving global issues will not only work, but is urgently needed.
Our thanks to the Quantum Learning Network www.qln.com for hosting the WRSC Design event.
Our thanks to Sterling Insights www.sterlinginsights.com for process design, co-facilitation, and the San Diego Region Game floor map..