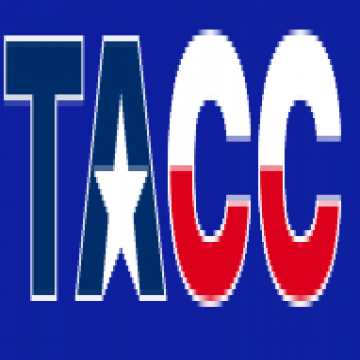 Texas advanced computing center Visual Laboratory
Organization Admin Phone
Organization Admin Email
Organization Address
J.J. Pickle Research Campus, Building 205 10100 Burnet Road (R8700) Austin, Texas 78758-4497
Organization Type
Other
Organization Director:
Mr. Andrew Solis
Orgn Director Address
J.J. Pickle Research Campus, Building 205 10100 Burnet Road (R8700) Austin, Texas 78758-4497
Orgn Director Business Interest
Other
Orgn Director Personal Motivation
< | > Sustainable Development | > < | > Environment | > < | > Renewable Energy | > < | > Bucky | >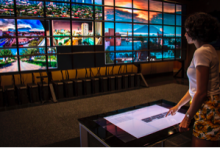 Facility Name
Samsung SUR40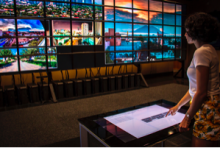 Facility Description
The Samsung SUR40 is an interactive surface that caters to 360° multiuser applications with the aid of Microsoft's PixelSense technology.
The system's IR backlight unit provides the light that will be reflected back onto the integrated sensors when the screen is touched. Values reported from all the sensors are used to create a picture of what is on the display. This technique allows the SUR40 to detect fingers, blobs, and tagged objects. The Vislab is currently using the SUR40 as a multitouch control station for our cluster-driven tiled display, Stallion.
Facility Project Focus:
Facility Services:
< | > Decision Making | > < | > Collaborative Work | > < | > Simulation Development and Analysis | > < | > Presentation Space | > < | > Networking | > < | > Research | > < | > Social Event | >
Organization Type
TACC