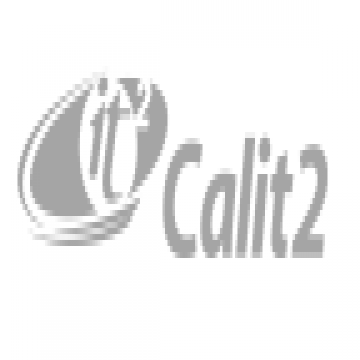 Calit2
Organization Admin Contact:
Dr. Bernd Fruhberger
Organization Admin Phone
Organization Admin Email
Organization Address
9500 Gilman Dr, La Jolla, CA 92093
Organization Type
Other
Organization Director:
Falko Kuester
Orgn Director Email
Orgn Director Address
Atkinson Hall,5th Floor 9500 Gilman Drive #0436 La Jolla, CA 92093-0436
Orgn Director Business Interest
Other
Orgn Director Personal Motivation
< | > Bucky | >

Facility Name
CalIT2
Facility Address
Atkinson Hall,5th Floor 9500 Gilman Drive #0436 La Jolla, CA 92093-0436
Facility Description
The StarCAVE virtual-reality environment is popular among researchers as well as with visitors to the Qualcomm Institute.
The StarCAVE consists of five walls with three screens each, plus floor projection. Two JVC HD2K projectors generate a stereo image for each screen, plus four projectors for the floor, totalling 34 projectors. Every projector pair is driven by a Dell XPS computer running under CentOS Linux version 6, with dual Nvidia GeForce GTX 285 graphics cards and a 10 Gigabit NIC. We use an additional XPS machine as the head node to control the rendering cluster, for a total of 18 nodes. For user tracking and interaction we use a wireless, optical tracking system by ART Tracking. It consists of four infrared cameras and a Flystick2 3D joystick. We currently support two software environments to drive the StarCAVE: Calit2's own CalVR and COVISE. But any Linux-compatible OpenGL-based application can be ported to the StarCAVE. The StarCAVE is located on the first floor of Atkinson Hall in room 1608a. StarCAVE is available to researchers and visitors.
Facility Project Focus:
Facility Services:
< | > Decision Making | > < | > Collaborative Work | > < | > Simulation Development and Analysis | > < | > Presentation Space | > < | > Networking | > < | > Research | > < | > Social Event | >
Organization Type
Calit2