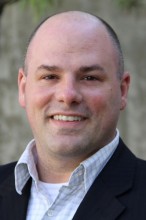 Organization
U.S. Green Building Council, San Diego Chapter
Description
Doug is the Executive Director of the San Diego Chapter of the U.S. Green Building Council. In this role he oversees the daily operations of the organization ensuring that the mission of the USGBC – San Diego is advanced.
His educational and professional background is in architecture and planning. His work experience includes all phases and scales of project development—from writing general plans through building detailing; and from conceptual design through post-occupancy evaluation. He has been a technical consultant for dozens of high-performance buildings advising on ventilation strategies, energy efficiency measures, on-site renewable energy generation, water efficiency and healthy interiors.
He has taught extensively on building energy use, ecological urban design, and sustainable building technologies at UC Berkeley, the Boston Architectural College, the Design Institute of San Diego, and Pitzer College. He is an advisor to the San Diego Zoo Biomimicry Conference and the UCSD Sustainable Business Practices Certificate Program.
Subject Matter Presentation