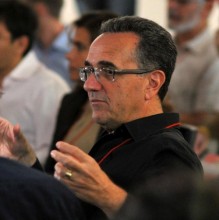 Description
Joe focuses on land use and public policy for private clients, public agencies, and neighborhoods. He draws from over 30 years of experience as a civil engineer, development manager, community advocate, and public policy practitioner. He started his career designing public infrastructure in the City of San Diego and at military facilities throughout the southwest. As a land development consultant he has provided creative problem-solving on complex land development projects in California, the western United States and internationally in Canada, China and Papua New Guinea. He has been a trusted consultant to Fortune 500 real estate companies in land acquisition and redevelopment of closed military bases.
Joe currently focuses on personalized management on infill redevelopment and community building; planning, designing and implementing public infrastructure; and, advising non-profit organizations and neighborhood groups on public policy.
Joe is Chair of the San Diego Community Planners Committee, the umbrella organization to the city's 41 community planning groups. In that capacity he was instrumental in framing and managing the first ever city-wide neighborhood input process on infrastructure priorities. Joe has also served and led a number of public working groups and committees on policy and infrastructure.
Subject Matter Presentation