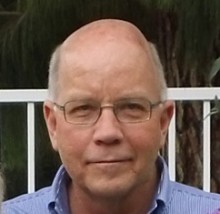 Description
Simon Mayeski is a founding member of SanDiego 350. He has focused on the  Regional Plan for the San Diego Association of Governments (SANDAG), paying particular attention to SANDAG's responsibility to fight global climate change in California. He has also helped organize SanDiego350′s rallies and marches and currently serves on the group's Public Policy committee, and serves as the organization's treasurer. He also serves as campaign treasurer for a number of San Diego area political candidates.
Simon has also been a Common Cause activist beginning in 2005, focusing on election and campaign finance reform. In 2012 he served as Common Cause organizer for planning and coordinating Election Protection activities. 2013 saw him working to jump start a campaign finance reform project here and has been active in a local group working to overturn the Citizens United Supreme Court decision.
Simon is a native San Diegan who graduated from the University of San Francisco and lived in the Bay Area for several decades before returning to San Diego in 1999. He worked in computer programming, database design and systems management, and began working in Web businesses beginning in the 1990s. He has been a local freelance writer and is currently working on a novel about politics and climate change, set in a nasty possible future.
Subject Matter Presentation