The Difference Between Chronic Hunger and Famine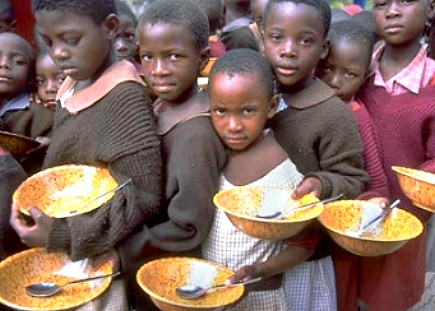 At the beginning of presentations introducing The Hunger Project (THP), we often address the difference between chronic hunger and famine. We talk about how images of emaciated children in war-torn countries are often what flow through our minds when someone says "world hunger." And we talk about how unfortunate it is that, though victims of famine account for only eight percent of the world's hungry, those images make headlines, while chronic, persistent hunger does not.

Right now, 13 million people in East Africa are affected by the worst drought the world has seen in 60 years. The headlines and images are harrowing. While communities in this region are indeed in dire need of humanitarian aid during this crisis (see our statement with a link to organizations working in such a capacity) — particularly in Somalia, where drought has led to famine — we think it's important to address THP's focus during this time.
» The difference between chronic hunger and famine. Famine is a very specific term, defined by the UN as occurring when malnutrition rates exceed 30 percent, more than two people per 10,000 people are dying each day, and there is a severe lack of food access for large population. Yet, more than 90 percent of hungry people — nearly one billion people or one in six — are experiencing chronic, persistent hunger; they are not getting enough food every day to be healthy and lead an active life.
THP is not a humanitarian response organization — simply put, we are not equipped to deliver emergency food aid. Our mission is to achieve the sustainable end of world hunger…it is a long-term goal and requires a different type of action.

THP focuses on building local resilience and skills so communities can end their own hunger. As a result, they are better able to cope when such emergencies do arise. For example, small farmers access training and credit from our epicenters in Africa, and in addition to improving their own livelihoods, they also contribute to a community food bank that is stocked for times of drought. Or, as you'll see from the story on Bangladesh below, trained THP animators and leaders throughout our THP Program Countries comprise a built-in network of capacity that is equipped to implement local emergency aid efforts in partnership with government or humanitarian NGOs.

We invite you to share with us your thoughts on our work and your concerns about the famine in Africa. Join the conversation by commenting on our recent blog post on the subject.