Scientists' satellite images track Malaria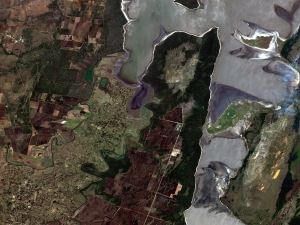 Super-high-resolution digital satellite photography is being used by researchers to help fight Malaria in Africa.
Mosquitoes' water habitats in Swaziland, Mozambique and SA's northern KwaZulu-Natal are being tracked by scientists, who are using imagery that has a visibility of up to five metres.
The European Union-funded Malareo project is using the photos, taken by German-based company RapidEye, to identify highest Malaria-risk areas. Malareo comprises a consortium of organisations, including the Swiss Tropical and Public Health Institute, the University of KwaZulu-Natal, SA's Medical Research Council, Swaziland's National Malaria Control Programme, and German-based Remote Sensing Solutions (RSS).
The photos of the 25 000km² area – acquired on five different days between 18 July and 10 November 2011 – represent a marked changed in spotting where Malaria-carrying mosquitoes reside.
Previously, researchers studying the parasitic disease had to either physically conduct field research, or rely on satellite Malaria-tracking photography that only zoomed up to 500m.
"What's new is using high-resolution data like RapidEye, with five-metre resolution, because we can even identify very small water bodies, wetlands and other malaria-relevant land-cover types," said Dr Jonas Franke, of RSS.
RSS uses RapidEye's images to generate information about rainfall estimates and land surface temperature, factors used by scientists to determine where Malaria breeding grounds could be.
According to Malareo, of the 225 million annual reported cases of the disease, 212 million of these occur in Africa. The organisation further says that of the 800 000 Malaria-related deaths each year, 90% of these fatalities occur in sub-Saharan Africa.
  FB.init({ appId : '154215901330156', status : true, // check login status cookie : true, // enable cookies to allow the server to access the session xfbml : true, // parse XFBML channelUrl : '
http://itweb.co.za/channel.html
', // channel.html file oauth : true // enable OAuth 2.0 });